Brazil - The Making of a Novel - Part 10
The Journey: Salvador, Bahia July 8 - July 11
July 8 I'm determined to keep this journal daily so though it's late, after a delightfully exhausting six hours with the best contact I've made in three months, I'll scribble a few lines.
Prayerful as I was last night, today started at 9 a.m. at Henriques' office. 9.10: "There is a problem." - "Urgently called to accompany the director to a distant town to discuss plans for centenary etc." - "Please come to Sally's office and we will find somebody." Temper rising but nothing I can do about it!! Patience. Sally makes phone call to "Antonietta" at the Archives. She can meet me at the Cathedral at 4.30. (Today, all Bahia life grinds to a halt because of Brazil vs. Spain soccer game.)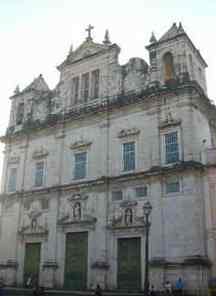 Cathedral at Salvador, Bahia

Kill time noon to 4.30 including bumping into exuberant Germans who were in taxi with me Tuesday a.m. They've "seen it all" - three hour tour and night of folklore and are leaving for Rio at 2.30! At 4.30 find Antonietta (de Aguiar Nunes) waiting in the doorway of the Cathedral. Go through my routine "introduction" again but this time find a perfect gem. A history professor mastering in social work, Antonietta "knows it all," genuinely.
Plunge into a three conversation, then to dinner at Pelourinho Square (restored by UNESCO) at "hotel school" that offers forty kinds of Bahia cuisine = African modified by spices of East (as per fleets from India.) Tomorrow we're to meet at nine to continue the "researches." The Good Lord be praised! Despite the Henry hitch, all augers well for the Brazilian adventure.
July 9 — A brilliant day! Won't attempt to repeat what's in my working notebooks.

(Besides my journal, I filled a pile of notebooks as I went along.)

Antonietta's contacts are stupendous, her enthusiasm unlimited. Now to bed, for I'm exhausted but in these early days of the journal, determined to make some entry, no matter how insignificant.
July 10-11 — Missed two nights' entries. Not through "sloth" but time! July 10 occupied with "re-creation" of 18th century Bahia. How the Portuguese must've loved this city! With its narrow, hilly cobbled streets, it is strong reminiscent of Lisbon and Coimbra. Most impressive is the Pelourinho - Pillory Square - with the old townhouses of the wealthy. The Pillory was moved here at the request of the Jesuits - it had previously been near the Cathedral - the lash and the bell/choir aren't compatible.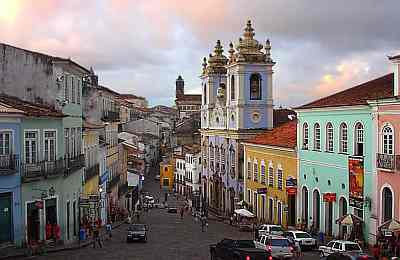 Salvador, Bahia, Brasil
I am slowly conditioning myself to life as lived here. On Thursday evening Professor Antonietta and I are invited to plantation 70 kilometers north with loan of car. On Friday evening the invite falls through. "A's" sister has arrived. "A" needs car and so on. Change plans. I wander streets by myself.
Among many sights is a carpenter's shop. Men at lunch round table surrounded by wood shavings, playing dominoes etc. One-eyed carpenter. Easily 18th century!
In evening we go to sound and light show at 17/18th century seafront fazenda that includes tobacco warehouse/slave quarters. Can't follow libretto and am somewhat irritated by excessive use of colored lights but get the ambiance.
Nothing impresses so much as the voices of the prayerful from the small chapel rising alongside crack of a whip wielded against the slaves. Can see why the Jesuits asked that this scourge be moved from their holy place.
Earlier in the day visited convent with foundling wheel — larger than I expected — Some said it was an excuse for the nun's own progeny. Convent built by a wealthy man with five daughters. All the girls consigned to the building for life. Nice pater!